Everyone has room for a table runner project, don't they?
I don't know about you, but come Christmas, I never have enough free surfaces or enough table runners to dress them with. Tablecloths are timeless for the main meal, but I love table runners and just don't have enough in my house to suit all my moods! Back when I started quilting, I had grand visions of making a table runner to complement each of my quilts - something that would really make sense as I do hang most of my quilts as wall hangings or textile art wall 'paintings' which my non quilting friends and family have often confused them for and with.
I'm sure it won't come as any surprise to you to hear that I actually haven't made many table runners according to my beginner's hopes for a matched decor. So I've gone ahead and designed the table runner I know I'll need to match the Christmas throw I'll be making.
Glad Tidings is ideal for a table runner and I love the idea of offering the Christmas Rose and Star or Dresden in a weekend project to either match your throw or bed quilt or as just a stand alone project, which I think it can easily allow itself to be.
I can already see three candlesticks in the centre of the Dresden's or small bowls of nuts, it's just perfect for my coffee table and I hope that it will find its way into your home too...
Like it? Make it!
Glad Tidings is free to members of my Yahoo BOM Group: membership is also free and the complete pattern is now available for free for a limited time. Simply log into my Yahoo BOM site and download the pattern PDF file from the "files" area.
Want to buy these gorgeous festive fabrics?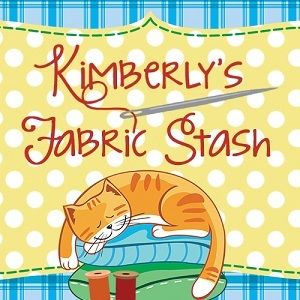 You can find these fabrics at Kimberly's Fabric Stash, why not stop by and browse her online store?
FLAT RATE SHIPPING $5.75 on Orders Over $20.00
Get 20% off First Purchase !!