There's no time like the present time (or in my case, there's no minute like the last minute) to get things done. So today I decided that I better 'convert' the last of the remaining items from my personal patterns and turn them into something that other people can understand and use.
It feels like I have been preparing for
Forget Me Not
for months, which I suppose I actually have! Now that we are in
Part 2
of the
Mystery BOM
this month, it's dawned on me that as I am making two at once, I had better get organised... I still have some other quilts and WIPs I'd like to finish this year as well. Hmm, that's the plan anyway.
So, who's ready to start the applique in Part 2 this month??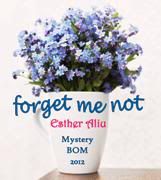 Forget Me Not
is my current Free Mystery BOM