And this month in the mystery,
you will be choosing between two applique designs.
or
I know, I know, today's close up of the purple-ish stem was to throw you off the scent.
Those leaves and stems belong to the Peony.
More close ups of both blocks tomorrow
.
Have you decided on which applique method
you'll be using for this quilt?
If you'd like to view my Applique Freezer Paper Method,
click here
and it will open up for you in a new window.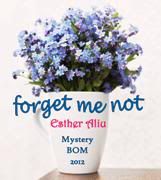 is my current free mystery BOM