This month we are creating either a beautiful

Calla Lilly block

or a joyful

Cosmos block

, the choice is yours! Remember, you need only make one block per month. I am making both because I am making 2x quilts ( 2 x DDs!) and the real pleasure of this is that no two

Forget Me Not Quilts

will be the same.
Over in my

Yahoo BOM Group

you can download the current block for free. The other advantage is the helpful chat we exchange with each other – sharing ideas and sharing photos. I have to say, whilst I love the chatter,

seeing the newly posted photos of blocks is a real highlight of my day!
The Corn and Sunflower and Peony Blocks from last month look amazing, I am so impressed with what you have all done with them!
Tomorrow I will post up close pics of the block…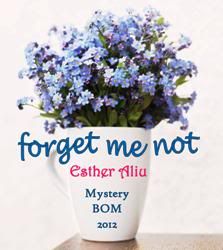 'Forget Me Not' is my current free BOM