Details from my

Cosmos Block

from

Part 3 of my Mystery BOM: Forget Me Not.
What a fun block this was to make. As I am making 2x quilts, each month I have to consider which block will best suit my dark quilt background and which block will suit my yellow background?
So far it's been really easy to decide. These cosmos pinks just sing out against the black whereas the Calla Lily white against my yellow background really suited. Of course, another consideration is that almost each listed flower option can have it's colouring changed. The colours I select are exactly that - the colours that speak to me, but you might yet change them to suit your own quilt background. I love the pink peony of last month's block, but I can assure it looks just as good in cream. And that's another advantage of the Yahoo Group - seeing what everyone else is up to with the same pattern.
Take the pattern and colour it in before commiting with fabric, it gives you an instant visual on the look you are creating.
Select the right tone of pinks that work with your backgroud. My background is dark, so it was easy for me to use bright, vivid pinks.
I used raw edge applique for this block
and, I added petal lines with my Prisma pencils in assorted pink shades
I added a small amount of wadding for the centre yellow circle
of the flower for some dimension.
...simple but lovely, just like a Cosmos flower!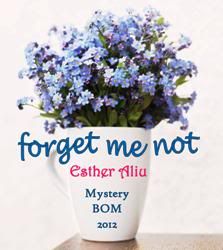 'Forget Me Not' is my current free BOM