Details from my

Calla Lily Block

from

Part 3 of my Mystery BOM: Forget Me Not.
Well, it was only a matter of time until the lily block arrived and here it is.
The technique used for the lily is turn edge applique, just like my Peony block last month.
Once again, I used pencils shading to add some green around the yellow stamens.
Sewing the leaf lines. Like last month, I am sewing the back of the leaf so that the 'wrong side' becomes the right side and the the bobbin work is what you see on the front of the leaf.
I do this because I used thicker / heavier thread to achieve this look. This is done before the leaf shape is cut out, it just makes working the stitches so much easier.
You can of course embroider the foliage background, I opted to sew it in
The pattern calls for tiny red points at the tips of the background foliage. I haven't added these in yet as I am undecided on how or if I will do them. Because my background is yellow, I am still yet to decide if they work or not.
The red tips might be too much…or I might change the tip colour so that it doesn't stand out as vividly as red- on -yellow is certain to! These are the little changes that need to be considered when working with your selected backgrounds.
What will

yours

look like?
Tomorrow: details of the

Cosmos block!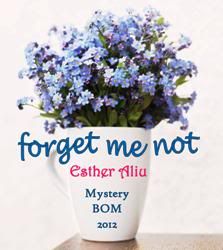 'Forget Me Not' is my current free BOM